From news reporter to nurse: Le Anh is SeAMK's Alumnus of the Year 2022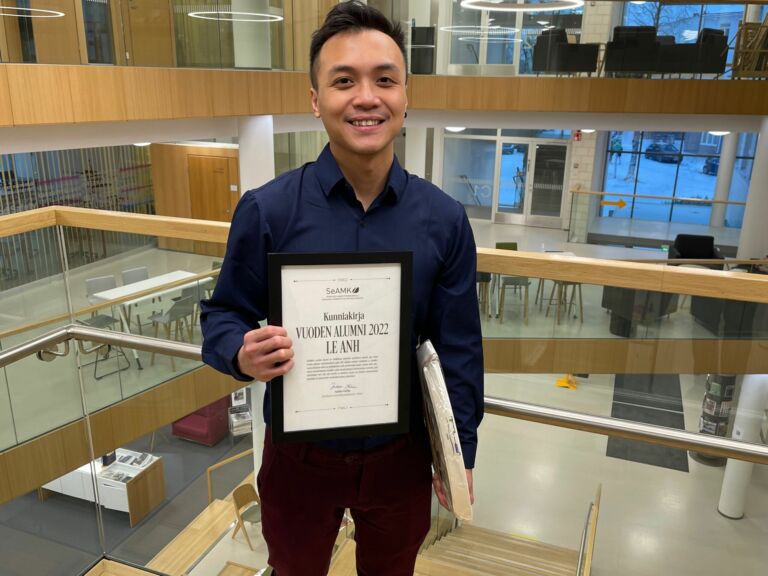 Nurse (Bachelor of Health Care, Nursing) Le Anh has been chosen as the Alumnus of the Year 2022 of Seinäjoki University of Applied Sciences. He graduated from SeAMK's English-language Nursing degree programme in the fall of 2020 and works in the Outpatient Clinic for Ear, Nose and Throat Diseases of the Surgical Hospital in Helsinki.
SeAMK's Alumnus of the Year is a person who has completed a degree at SeAMK and does meaningful work in their own field. He/she does his/her part to promote the interaction between working life and SeAMK and presents the university in a positive way. This year's selection highlighted internationality or international activity as a special criterion, which means, among other things, that the person has promoted the international activity of the region or community or the ability to act in a multicultural community.
From the proposals given by the staff of SeAMK, the final selection for the Alumni of the Year was made by SeAMK's alumni working group together with SeAMK's management.
"Le Anh highlights the activities of SeAMK and the Nursing degree programme on social media and in his own work. He has also been an active spokesperson for SeAM in the Vietnamese community in Finland. Le Anh also acts as a mentor for international degree students", President & CEO Jaakko Hallila thanks the new Alumnus of the Year.
The disaster news spurred a new career
"Being chosen as Alumnus of the Year was a real surprise. I am very happy, almost speechless and really taken. I received a very good education at SeAMK and I consider it a perfect start to my new career, so I am grateful for this," Le Anh describes his mood.
When talking about his new career, he describes quite a change in life, which took him to the other side of the world to study a completely new profession. In his home country of Vietnam, Le Anh worked for four years as a news reporter and television news anchor.
"I was watching the news on TV one day, and it was really sad: wars and children's hunger and suffering in the middle of it all. I didn't want to stay put, I thought I wanted to do something and help people. I knew that the work of a nurse is really challenging, but at the same time rewarding, so I decided to apply to study."
He says that he knew about Finland's reputation for good education and he started looking for a study place here.
"It turned out that SeAMK was considered a respected educator of nurses. I put SeAMK as one study option and luckily I got in".
Practical training periods clarified the meaningfulness of work
Le Anh was very fond of studies and their practicality.
"The studies included many periods of practical training, and SeAMK also had good simulation programmes and teachers for everything. The education prepared me very well for working life."
The fact that Le Anh was recruited at the outpatient clinic of the Surgical Hospital after graduation is a result of the internships.
"I did my first internship at Attendo's nursing home and the following ones at the Sutgical hospital in different departments. I was able to try out different tasks during the internship so that I would know what suits me best. The training period in the surgical department helped me decide that I also want to work there."