Bachelor Degree Programme in International Business
Are you interested in studying international business management and marketing in Finland? The Finnish education system is well known for its high quality.
Complete a Bachelor's degree at SeAMK to be prepared for an international business career. All studies are conducted in English and opportunities for student exchange and double degree studies are available worldwide.
DEGREE: Bachelor of Business Administration, BBA
LENGTH OF STUDIES: 210 ECTS Credits, 3,5 years
HOW TO APPLY: Joint Application 9 – 24 January 2018 at www.studyinfo.fi
Number of study places: 40
Studies will begin: Autumn 2018
For possible further application dates, please follow information on this site and Studyinfo.
The School of Business and Culture has a central location in Seinäjoki in the Frami Campus Area. Also a large number of companies which cooperate with SeAMK can be found in the Frami area. This makes the area an inspirational study place with high technology solutions and synergy from other branches of science located in the area.
What Can You Achieve by Studying International Business in Seinäjoki, Finland?
You will get an overall picture of business administration with a focus on the international operations of companies and organisations. You will gain competences in planning, running and developing business in a global environment. The study programme is based on a good understanding of entrepreneurship and small and medium-sized enterprises.
- Language and Cross-cultural Skills
You will also be given a chance to acquire feasible, practical language skills by studying in English and working and studying abroad. In addition, you can choose to study other languages that are important in international business. Studying in a multicultural group of students prepares you for your future working life.
How Are Your BBA Studies Organised?
IN THE FIRST YEAR you will learn about business operations by working in a virtual enterprise, which is formed by a group of students representing different nationalities. Students plan, run and develop a virtual business and operate in a network.
IN THE SECOND YEAR of studies you will deepen your knowledge of different areas of international business. International exchange students join the group. There will be several visiting lecturers from partner institutions abroad. The programme also includes project work together with regional and international companies.
THE THIRD YEAR consists of an exchange semester abroad in one of our partner universities and practical training that reinforces the theoretical knowledge you have learned.
THE FINAL SEMESTER in the fourth year is reserved for completing the final thesis.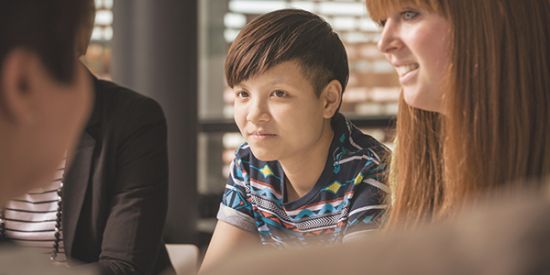 What Job Opportunities Will You Have?
Bachelors of Business Administration are prepared for a wide range of tasks in international business and marketing. Possible job titles include: export manager, sales manager, product manager, export assistant, marketing assistant, sales assistant, marketing planner, marketing communications planner, sales negotiator, customer service coordinator.
The next chance to apply for the Bachelor of Business Administration, International Business is 9 – 24 January 2018 in the joint application at www.studyinfo.fi
More information about the application process you will get from the Admission Services of SeAMK.