SeAMK is hosting an International Week from 21 to 25 November 2022

In the current week of November 21–25, 2022, the SeAMK International Week is taking place at SeAMK Campus bringing opportunities for international networking, international teaching cooperation and domestic international experiences for both students and staff.
Almost 90 staff representatives from SeAMK's partner universities around the world will participate in SeAMK's International Week. Most of the participants have arrived on site, a good 20 people will participate in the week's activities virtually. The participants of the International Week come from 20 different countries and 47 different higher education institutions.
The International Week's programme started on Monday, 21 November with the Seinäjoki tour and the Get together event. On Tuesday morning, 22 November, President & CEO Jaakko Hallila welcomed the guests and told them about SeAMK and internationality as part of SeAMK's activities. The guests were able to get to know SeAMK's fields of expertise in presentations by RDI researchers of different fields. The mayor of Seinäjoki, Jaakko Kiiskilä, brought an overview of Seinäjoki and the region's internationality to the Tuesday morning opening ceremony. In the afternoon, the guests got to know some of our RDI activities through a poster gallery and our various activities and learning environments through a Campus tour. For the bravest guests, there is still winter swimming in the evening.
The programme for Wednesday and Thursday 23–24 November includes various workshops. On Wednesday afternoon, our degree programmes organise education field specific networking coffee events where our staff can meet and network with our international guests.
In addition, many of the guests make teaching visits to the lessons of different degree programmes during the week, which brings the internationality week within the reach of our students as well.
The International Week has been organised in cooperation with the International Education Services team, degree programmes' international contact persons and other members of the staff, as well as representatives of RDI activities.
Further information about the International Week can be found on our webpage SeAMK International Week 2022 | SeAMK.fi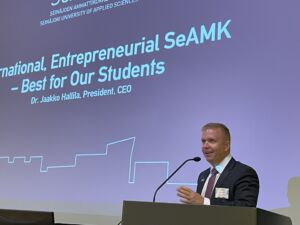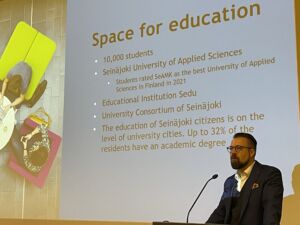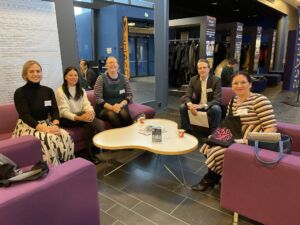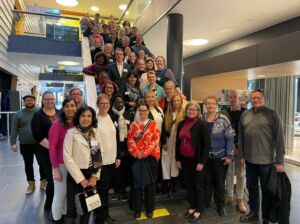 Jaakko Hallila, President & CEO of SeAMK; Jaakko Kiiskilä, Mayor of the city of Seinäjoki; International Week guests