Bachelor Degree Programme in Engineering, Agri-food Engineering
Apply to Seinäjoki University of Applied Sciences in Finland and become an agri-food engineer!
As an engineer of agri-food, you will get a holistic understanding of food systems. In your studies, you can follow the production of food from "field to fork". You will understand food processing from many perspectives and for different raw materials, like vegetables, cereals, beverages as well as dairy and meat products. You will get a good foundation to work in various positions in the field of agri-food, like in production, quality control, research and development, in management positions, in sales and marketing or even as a founder of a company.
Also, the multidisciplinary and international SeAMK offers to the students of agri-food engineering the opportunity to expand their skills to the international agri-food industry.
SeAMK's the best university of applied sciences in Finland
According to a recent Graduand feedback questionnaire (AVOP 2020), Seinäjoki University of Applied Sciences (SeAMK) is the best university of applied sciences in Finland. SeAMK has the best study satisfaction, the best study support services, the best learning environments and the best feedback and assessment practices.
Agri-food engineering studies
 Degree: Bachelor of Engineering, Agri-food Engineering
Length of studies: 240 ECTS credits, 4 years
Number of study places: Direct Application 10, Joint Application 15
How to apply
There are two ways to apply and two application periods for studies starting in autumn 2022:
Joint Application for Higher Education in Finland: 5 – 19 January 2022
SeAMK Direct Application: 5 January – 8 April 2022
Information about the application process and admission criteria in these applications will be published at Studyinfo.fi service by the end of September 2021.
Programme objectives and overview
The industries in agri-food business are quickly globalising, and they are also internationally competitive. The food processing industry in Finland is a competitive industry branch. Finnish expertise in the field is at top level in the world. This industry branch is crucial, and the development will continue around the world.
Agri-food engineering studies at SeAMK are designed to meet the future requirements of agricultural production, food technology, food processing and packaging. Alongside full skillset of basic and natural sciences knowledge of engineering and agri-food processing, you will get strongly involved with process hygiene, mechanical engineering, automation and digitalisation. Also, sustainable management in agri-food business is essential part of the studies.
General competencies form the basis for professional activities, cooperation, and the development of expertise. General competencies include learning skills, ethical competence, cooperation skills, innovation skills, and internationalisation skills. In addition to the above-mentioned competencies, entrepreneurial skills and quality management skills are emphasised in the degree studies of SeAMK as competencies common to all.
Degree programme-specific competencies form the basis for the development of the student's professional expertise.
The studies in the Agri-food Engineering Degree Programme (240 ECTS) consist of basic and vocational studies, internships promoting professional skills (30 ECTS), free-choice studies, and a final thesis (15 ECTS). The extent of the annual studies is 60 ECTS. The recommended time to complete the programme is four years.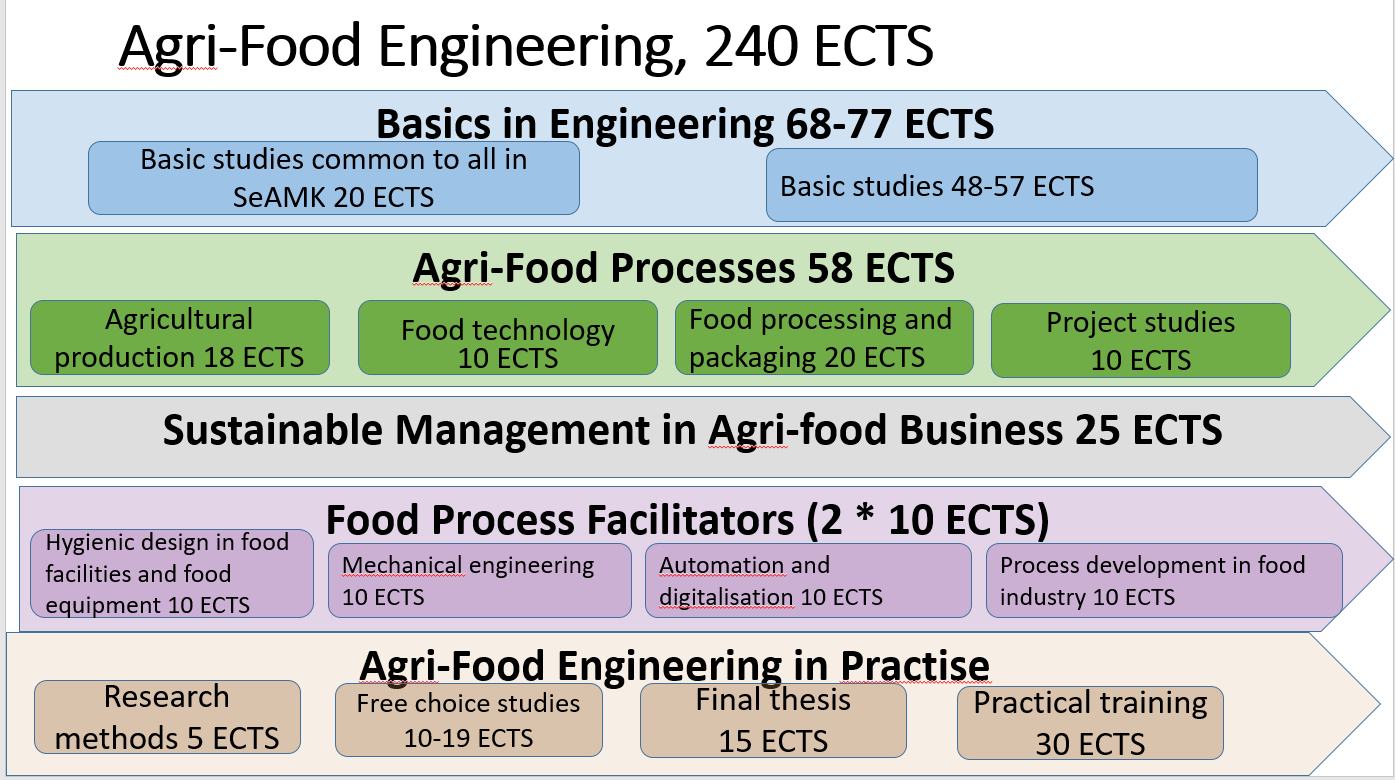 Image 1. Structure of Studies.
Studies are divided into following themes:
Basic and natural sciences knowledge of engineering, including chemical and microbiological laboratory skills
Agri-food process knowhow: agricultural production, food technology, food processing and packaging
Sustainable management in agri-food business
Modules related to food processing, hygienic design, mechanical engineering, automation and digitalisation, as well as food process development, out of which two modules could be chosen
The practical learning is a central and important part of the studies. This is implemented through practical training, projects, and final thesis.
In addition, Seinäjoki University of Applied Sciences offers free-choice studies e.g. alternative studies in the own degree programme and courses offered in other degree programmes and on CampusOnline can be selected.
Engineers in agri-food processing will work in key positions in related industry. Graduates from the programme may work in food production, in quality control, in process development, with design of equipment and facilities in the agri-food industry including services related to the branches. There are also possible positions in inspection, supervision and teaching in both municipalities and governmental bodies. These studies are also a base for entrepreneurship.
Possible positions for agri-food engineers are production supervisors, process designers, health inspectors, quality controllers or production managers. Many industrial positions require skills in automation, digitalisation and hygienic design. The job situation for engineers is stable and the future looks bright for agri-food engineers.
Seinäjoki – Entrepreneurial, active and affordable city for students
The School of Technology and the School of Food and Agriculture are located at Frami Campus of SeAMK, where students from all schools of SeAMK can interact and enjoy one of the most modern and beautiful campuses in Finland. Student housing and the city centre are a convenient walking distance from the campus. The Frami area is also a home to a number of high tech companies, which helps you get familiar with your future employers.
The fast growing city of Seinäjoki is the heart of the South-Ostrobothnia region and is easily accessible via public transportation through major routes. Even though the capital of Helsinki is less than three hours away by train, choosing to stay and live comfortably in Seinäjoki can be much more convenient and affordable.
(This webpage contains videos published before 23.9.2020 that are not covered by the Digital Services Act. These files and videos may be in an inaccessible format because they are not needed to handle an unfinished matters and are not essential for online transactions.)