Wellbeing technology supporting transforming societies
The education field of Health Care and Social Work's research and development focuses on wellbeing and creativity in the following fields:
Wellbeing technology supporting transforming societies
Digitalization in health care and social services
Proactive and empowering services for elderly people and families
Quality and wellbeing in working life, including management development
More wellbeing from cultural services
The following figure illustrates the thematic areas of current and emerging competences and interests in Wellbeing Technology supporting Transforming Societies at SeAMK.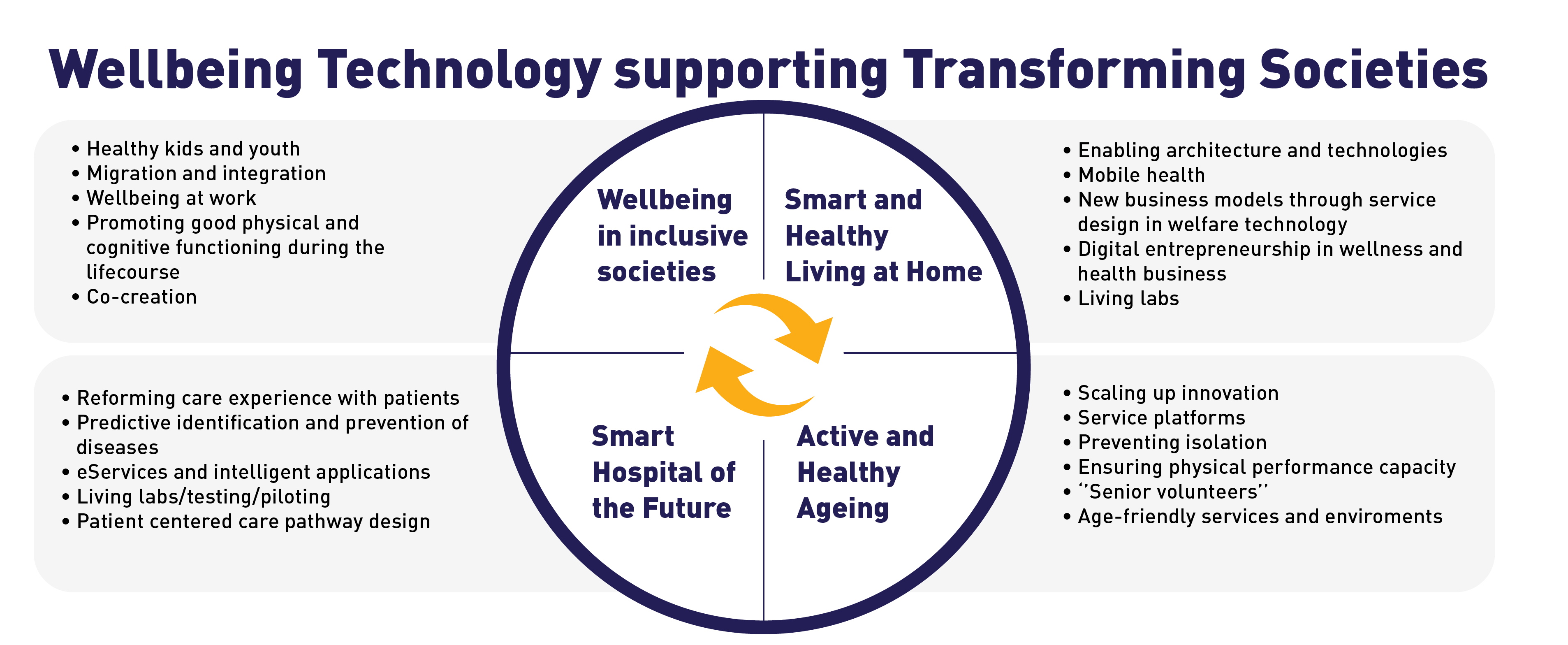 Wellbeing technology has been under systematic development in SeAMK during the past two decades. The merge of South Ostrobothnia Health Technology Development Centre into SeAMK in October 2018 further strengthened SeAMK's expertise in adapting ICT technologies into health care sector's needs. In 2018 and 2019 emphasis has been on developing and updating the living labs. SeAMK Living Labs in Wellbeing Technology play a vital role in regional and international RDI.
SeAMK Wellbeing Labs in Healthcare and Wellbeing Technology
SeAMK Wellbeing Labs is the development and learning environment of the fields of health care and social work of Seinäjoki University of Applied Sciences (SeAMK). The environment consists of wellbeing technology, simulations and student work. SeAMK Wellbeing Labs offers a platform for companies, municipalities, joint municipal authorities, organisations and municipal residents (service users) to develop, test and pilot different user-driven technologies, operating methods and process models and to support their implementation. The development is based on co-creation, and the activities are open and agile.
See also: Telemedicine Centre, Simulation Lab, and SeiHoW Lab.