Services for Companies and Organisations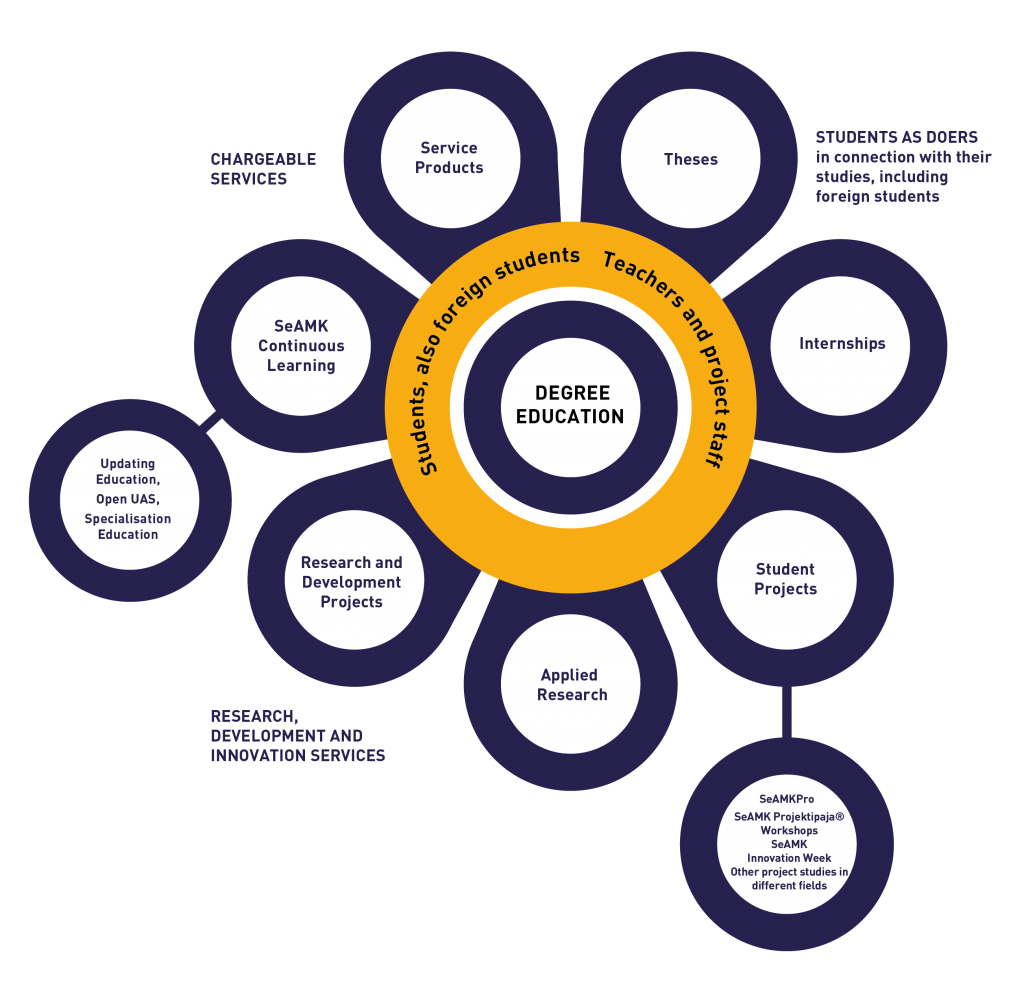 Trainee
All bachelor's degrees completed at Seinäjoki University of Applied Sciences (SeAMK) include a practical training period. Depending on the field of study, the length of practical training varies from one to six months. During practical training, the student participates in work assignments as a member of the working community, based on a plan agreed in advance. A working community will benefit of up-to-date skills and fresh ideas of trainees.
In addition to normal tasks, our students can participate different development-related challenges at the workplace, and to combine their thesis with topics offered by the employer. Often practical training leads to the successful recruitment of the student by the employer.
Thesis
Theses are a significant part of the Seinäjoki University of Applied Sciences' RDI activity. Theses are linked to the multi-layered entity of RDI activity, whose participants are students, teachers and representatives of working life. Hundreds of theses are completed every year at SeAMK. Because of the multidisciplinary nature of the university, both the subjects of the theses and their methods of implementation differ between faculties.
The aim of a thesis at SeAMK is to develop and demonstrate a student's skill in applying his/her knowledge and expertise to a practical specialist task related to vocational studies. In a thesis, knowledge and skills acquired in studies are applied to the requirements of practical working life. Often a thesis also acts as the student's bridge to working life: many jobs are found because of the theses.
Student projects
A student project typically arises from various challenges that a company or organisation has. Students solve the problem in cooperation of the company or organisation concerned. The forms and contents of the project will be planned in tight cooperation with the lecturer who is the responsible for project studies.
Expertise services
Expertise services include for example planning, developing and implementing personnel training together with the customer. Our continuing education answers specially to the needs of social and health-care specialists in working life.
Up-to-date laboratory and testing services enable customer's data-based decision making on investments.
Expertise services also provide consulting and training on nutrition. Services of authorized nutritionist are available for companies and organizations.
Market research services offer important information e.g. to identify and analyse the market need, market size and competition. Services include for instance customer satisfaction surveys, studies of company and product potential and studies of the market potential of innovations and potential customers.
AB Seinäjoki aims at innovations and commercialisation of agro-bioeconomy research results. It is also an active platform of networking for companies.
Global education services offer high quality multidimensional services based on the needs of our customers. Services include e.g. Bachelor and Master degree programmes and tailor-made degree programmes and double degree programmes. Short programmes, summer and winter schools, study visits and consultation, training and evaluation for the development of vocational and higher education are also available. Global education services also provide research, development, entrepreneurship and innovation services in the fields of food, health and welfare, smart and energy efficient systems as well as new business concepts.