Long test drive: A German student-research-team arrives at SeAMK with e-car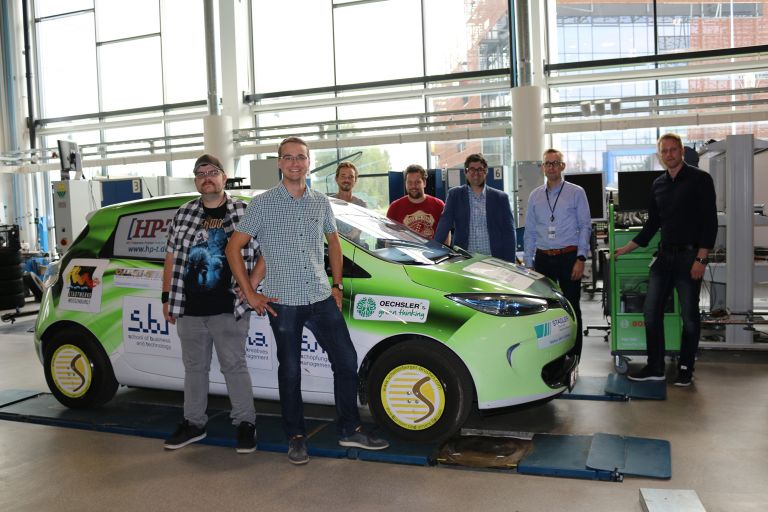 They say, a journey of a thousand miles begins with a single step, but how does a journey of 2500 km From Ansbach, Germany to Seinäjoki, Finland go, when travelling with an electric car?
Seven days in total and starting in Bavaria Germany, the drive with the e-car took the four-man-team all the way from Ansbach UAS to Denmark and then crossing over to Sweden, driving north to Umeå, boarding the ferry to Vaasa with an hour left to go, finally reaching their destination at SeAMK, in Seinäjoki, Finland.  If that sounds like an exciting drive it surely is, the team leader and Professor Michael S. J. Walter acknowledged, even though he himself arrived here in a less adventurous and more convenient way, by airplane and train.
The e-mobility research and development project is a combined effort between the mechanical and electrical engineering teams of Ansbach UAS. An extended research that has being going on for quite a while now with the focus on testing the modification of the e-car. A part of this project was to test-drive it further than it had ever been before. The Ansbach UAS e-mobility research team has also built a bio ethanol co2-neutral heater that would sufficiently replace the standard usage of the battery power saving up a lot of energy, for a sustainable e-mobility.
The research team of four students and their professor, Michael Walter from the University of Applied Sciences of Ansbach, Bavaria, were received with a warm welcome here at SeAMK, when decided that Seinäjoki University of Applied Sciences would be their journeys destination, for the test drive of the e-car.
"It is important to support these research and development projects and built connections between SeAMK and students of different countries. The dynamics of collaboration on various projects within the research and educational communities, builds strong rapport for future developments" stated, Hannu Ylinen, lecturer of mechanical engineering at SeAMK.
So, was there any bumps and challenges then, on the road? The trip started with awful weather in Germany and lots of motivation and excitement from the team of researchers, for the unexpected surprises of the venture ahead.
"Driving the car for the first time, 300km a day at a minimum was both exciting and scary. It was quite exciting not knowing if we were to make it from charging station to charging station, the potential challenges involved, as well as possibilities of any malfunctions", said one of the research team students.
At the end of their test-drive journey, and after all the worries subsided, they were pleasantly surprised to arrive at a very warm and sunny Finland. The German research students, who came to Finland for the first time, were very impressed by the diversity and surroundings, as well as the serenity and relaxing atmosphere of the SeAMK campus. Finally, the research team concluded that all went as expected and that the findings were successful, yet there is always room for optimization.
Written by: Barbara Gerakis