Spanish eHealth professional joined SeAMK to level up international RDI activities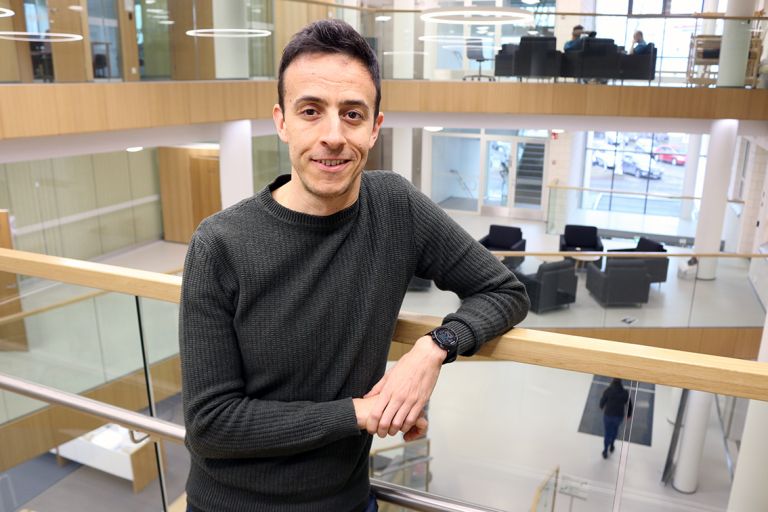 During recent years one of SeAMK's concentration points has been working with digitalization in health care and social services. One important step in this work was recruiting an RDI specialist who is experienced in eHealth, artificial intelligence and international project funding.
SeAMK's recruitment ad in LinkedIn caught Pedro Moreno Sánchez's eye last November.
"I have always wanted to have international experience. I think that is fundamental for researcher. My idea was to find post doc or research positions from Scandinavian countries, because you are quite famous for your social support to the families and for your educational system", he says.
Pedro Moreno Sánchez is PhD who is specialized in health technologies applying to elderly people. He studied telecommunications engineering in polytechnical university in Madrid, Spain. After this Bachelor Degree he continued to study Master Degree in telemedicine.
"One of the teachers offered me an opportunity to be hired in university's telemedicine department and I decided to do my PhD."
Pedro's dissertation was about applying 4G technologies in elderly care. He developed couple of IT services: for example a location service for those elderly who have lost.
"The service made possible to locate them accurately and call relatives or health professionals", he describes.
Pedro worked in university's telemedicine department as researcher and lecturer. Unfortunately his contract ended as project funding ended. Circumstances yet had silver lining: Pedro and his wife had their first daughter, and he had a chance to stay home with them for nine months.
2016 he started to work as researcher in a hospital in Getafe, Madrid
"The unit I worked in is eHealth unit. The unit is specialized in developing IT services and research projects for elderly people", Pedro says.
After three years he resigned willing to go abroad. Job hunt in Scandinavia had led to few interviews in universities in Sweden and Norway as well in Finland in Oulu. But after seeing SeAMK's ad and first conversations with RDI manager Jaakko Hallila, Pedro was convinced to come to Seinäjoki.
"I think it was your kindness and all the help for us moving from another country. I have two small daughters and my big fierce was how the adaptation process will go. I felt secure and comfortable with you."
According to Pedro it also made a difference how SeAMK pointed out significance of artificial intelligence.
"That is where all the technologies are focusing on. It's a correct path to follow."
Experienced in Horizon2020 project Pedro's task in SeAMK is to look for research funding and opportunities discovering programmes or consortiums SeAMK could enter in.
"Concentration point is to develop healthcare technologies and wellbeing technologies with common line of robotics and artificial intelligence. I am looking forward to have some lectures also as SeAMK will have an educational line in health technologies."